Study
Japanese Language Schools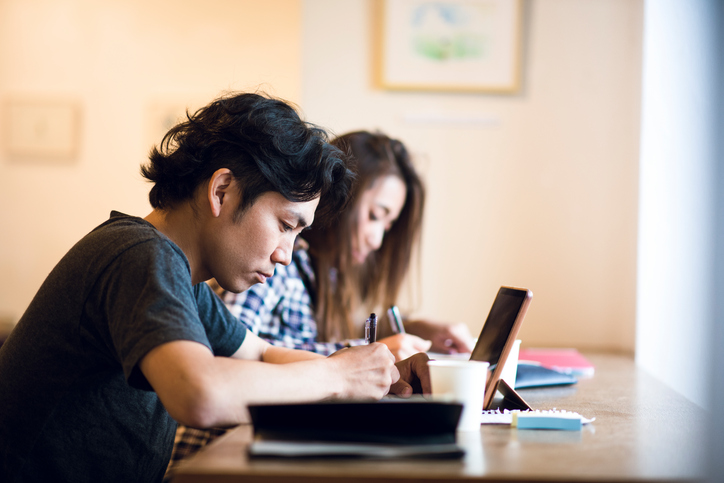 Whatever language you decide to learn, there is no doubt that studying the language in a country where it is spoken is the best way to improve your skills and work towards fluency. Japanese language schools provide great opportunities for this and also help you work towards your personal goals. Language institutions can be found all over the country making them great options for studying in the region of your choice.
Types of Japanese Language Programs
Japanese language school programs can largely be classified as short-term or long-term. The former is geared towards students who plan to stay in Japan for less than 3 months and the latter for people who would stay for 1 or 2 years.
For citizens of many countries, visa-free entry into Japan is allowed for up to 90 days. For these people, short-term programs might be ideal as alternative summer or spring break options for school. They might also be appealing to people who would like to study Japanese and sight-see in their free time after classes.
Students who would like to study Japanese for a longer period of time require a visa. These tend to be students who have intentions to study at a Japanese institute of higher education or find employment in Japan.
More specifically, Japanese language schools might offer the following types of courses:
Short-term

Intensive
Travel Japanese
Seasonal Courses
Culture Courses
Test Preparation

Japanese Language Proficiency Test (JLPT)
Examination for Japanese University Admission for International Students (EJU)
Business Japanese Test (BJT)

Private Lessons

Long-term

Intensive Language Study
University/Vocational School Preparation

i.e. Transfer programs
Often include test preparation components

Business Japanese

Often include business culture and manner components
Often include test preparation components
May include a resume, CV, and/or interview preparation assistance

Japanese Language Teacher Training
Some schools even offer distance learning or remote learning options.
Different schools specialize in different areas, so it's best to inquire with the school directly if you have any specific goals.
Admission Processes
As with any other school, you will need to apply to start taking classes at a Japanese language school. Eligibility varies by institution and program so it's best to inquire directly. Some schools have rolling admission through which students are admitted year-round, many institutions (particularly, those with long-term courses) have set admission periods that generally follow the following schedule:
| Spring Start | Process | Fall Start |
| --- | --- | --- |
| April – September | Request, Prepare, and Submit Application Materials | October – February |
| September – November | Application Period | February – April |
| January – March | Immigration and Enrollment Procedures | July – September |
| April | Start Course | October |
Application materials also vary from school to school. For those applying to Japanese language programs and are intending to transfer to an institution of higher education or begin work in Japan upon its completion, the following may be required:
School-specific application form and materials
Resume or curriculum vitae
Academic transcripts
Graduation certificate or diploma (or a letter of anticipated graduation)
Proof of financial eligibility

i.e. personal bank statements or statements from those who will be sponsoring you

Any other documents requested by the institution in question
Cost
The price of studying in Japan may be the biggest factor in whether or not students ultimately decide to start. Below are average amounts for tuition and fees at language schools in Japan.
Total
200,000 JPY
Short-Term Programs(3 months)
Tuition
170,000 JPY
Fees
30,000 JPY
Total
800,000 JPY
Long-Term Programs(1 Year)
Tuition
650,000 JPY
Fees
150,000 JPY
Remember that the above tuition and fees are only averages. Some locations may have additional fees for inscription and visa arrangement where necessary. There are also schools that offer short-term programs for as short as one week. For specific fee information, please consult your school of interest directly.
Other things to consider when picking a school are whether or not they can provide support in securing accommodation and whether or not they can sponsor a student visa (if necessary).
No matter the case, having a clear goal in mind before beginning your studies will help you in your search and lead you to a school that meets your personal needs. Once you begin your studies, stay focused, practice, and persevere. If you can do this you will surely be on your way to mastering the Japanese language and achieving your personal, educational, and professional goals.