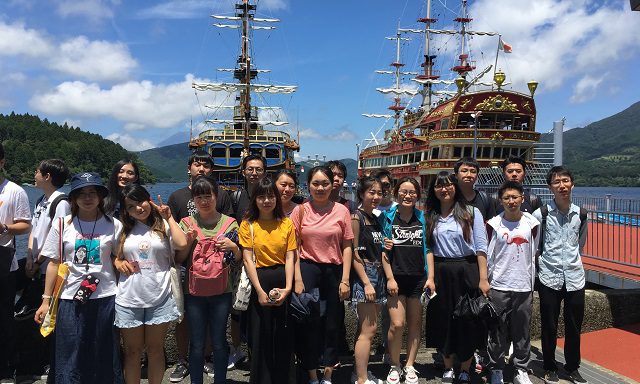 Sendagaya Japanese Institute Attached to Japanese School
INFORMATION
Location

1-1-29 Naka Ochiai Shinjuku-ku Tokyo 161-0032
Closest Station

Shimo-Ochiai Station, Takadanobaba Station
TEL

+81-(0)3-3953-0691
Principal

Jiro Yoshioka
Founded

1975
WEBSITE
OUTLINE
Number of Teachers

78
Student Capacity

976
Number of Students

767
Student Nationalities

East Asia (100%)
VOICE
Why this school?
POINT

1

【Carefully Organized Classes that Make Use of the Merit of Our Large School】
Because we are a large school, we are able to create several classes for a given level of Japanese language proficiency. This makes it possible for classes to advance at their own pace and for students to learn in a class that is best suited to their individual needs. In our classes, students do not simply learn Japanese necessary to pass a test but learn the Japanese necessary to advance into the next stage of their academic career.

POINT

2

【Experienced Teachers】
The Sendagaya Japanese Institute Japanese Teachers' Training Program has been training instructors for over 40 years. Our teachers are taught practical theory and skills which they use to teach at institutions in Japan and around the world. At Sendagaya group schools, these Japanese language teachers are helping eager students through their classes and teaching methods.

POINT

3

【Unlimited Support in Your Native Language】
At Sendagaya Group, we have staff from a number of countries including China, Vietnam, Russia, Sweden, and Egypt. Whether it be study questions or help with everyday life concerns come see us as much as you want any time you want.
Students / Teachers Voice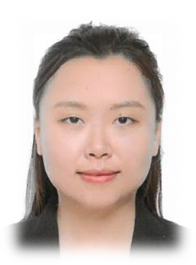 Qing Yan (China)
Passing the JLPT N1 is not enough to pass graduate school entrance exams. You also need to be able to write essays and express your thoughts clearly in Japanese.  Also, it is very important to be able to read reports on technical subjects as well as your own areas of interests. I received a lot of instruction from my teachers at Sendagaya that helped me not only level up my Japanese but also write my research proposal. It is also very important to gather as much information as possible when preparing for graduate school entrance exams.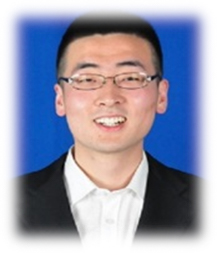 Chuang (China)
Through Sendagaya's school transfer course, I was able to earn acceptance to the graduate program that I wanted. I am sincerely thankful for the school's teaching. The grammar, reading comprehension, and research proposal writing class were especially useful. There are many excursions and off-site learning opportunities available which makes life as an international student very fun. I highly recommend Sendagaya Japanese Institute to anybody who is looking to seriously study in Japan.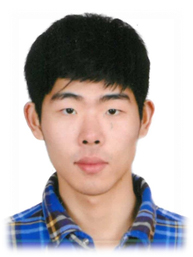 Han Hua (China)
Thanks to all the teachers at Sendagaya and their wonderful teaching, I was able to be admitted to graduate school at Tokyo University. "Effort is always rewarded, if there is still unrequited effort, that is not an effort." That is, in order to succeed, the appropriate amount of effort is necessary. However, I think that effort in itself is not enough. Put all of your heart into studying efficiently and discovering new study methods is also important.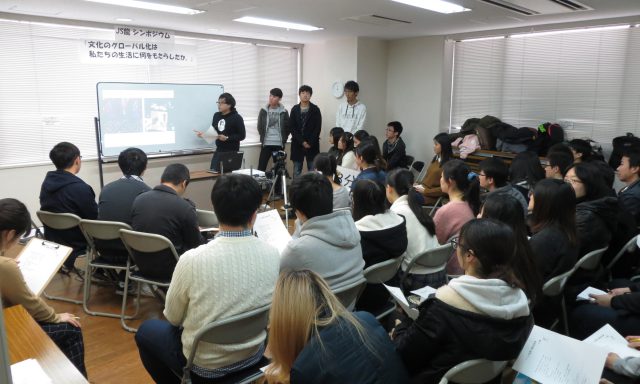 Course Description

This course is employs all the knowledge accrued through Sendagaya Group's years of experience. It specializes in preparing students for advancement into a graduate school program starting at the basics of Japanese. Acquire a comprehensive set of skills to complete tasks in Japanese. Also acquire the same level of language skills that even a Japanese person would have to work hard for.
● Admission Periods: January, April, July, October
● Course Length: 6 months - 2 years
● Class Length: 45 mins/lesson
● Class Time: ①9:00 - 12:20 / ②13:30~16:50
Course Price
Total
956,000 JPY
1,106,000 JPY
1,286,000 JPY
1,436,000 JPY
 
1 year
3 Months
1 year
6 months
1 year
9 months
2  years
Registration
22,000 JPY
Admission
55,000 JPY
Tuition
840,000 JPY
990,000 JPY
1,170,000 JPY
1,320,000 JPY
Materials
Actual Cost*
Other
39,000 JPY
*: The full costs of any textbooks and other materials are to be paid by the student and are not included in the cost of the course.
Accommodation Price
|   | Option 1 | Option 2 | Option 3 | Option 4 | Option 5 |
| --- | --- | --- | --- | --- | --- |
| Dormitory | 167,000 JPY/3 mos. | 185,000 JPY/3 mos. | 221,000 JPY/3 mos. | 245,000 JPY/3 mos. | 257,000 JPY/3 mos. |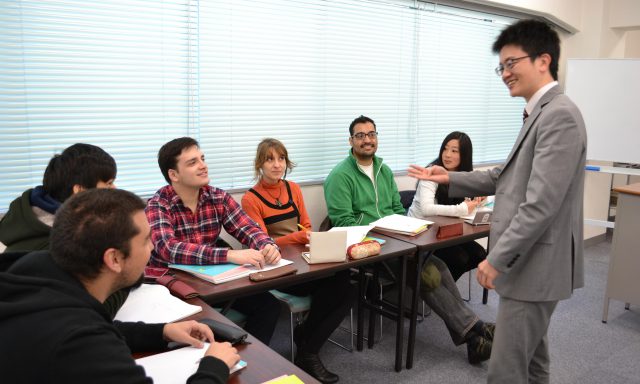 Course Description

From the beginner level to advance, private lessons allow students to study at their own pace. We have prepared curriculum to help students to study for just about any purpose whether it be learning business Japanese, studying for the JLPT, or anything else. With prior notice, it is also possible to reschedule or make up lessons in the event that you need to miss one. Lessons are taught one on one making it possible to learn proper and correct Japanese.
Course Price
| | |
| --- | --- |
| Total | 776,000 JPY |
|   | 1 year |
| Registration | 22,000 JPY |
| Admission | 55,000 JPY |
| Tuition | 660,000 JPY |
| Materials | Actual Cost* |
| Other | 39,000 JPY |
*: The full costs of any textbooks and other materials are to be paid by the student and are not included in the cost of the course.
Accommodation Price
|   | Option 1 | Option 2 | Option 3 | Option 4 | Option 5 |
| --- | --- | --- | --- | --- | --- |
| Dormitory | 167,000 JPY/3 mos. | 185,000 JPY/3 mos. | 221,000 JPY/3 mos. | 245,000 JPY/3 mos. | 257,000 JPY/3 mos. |
SERVICE
Wi-Fi

Free internet access for all students studying at the school.

Lounge

Student lounge for studying, relaxing, or enjoying time with friends.

Library

A variety of reading materials available for study or for leisure.

Activities

Experience Japanese culture first-hand with cultural experiences and other activities.

School Transfer Support

Transfer into a degree program at a Japanese school

Career Support

Find the perfect job after graduation

Accommodations

Assistance to find the room that is right for you.

Airport Pickup

Arrive directly at your accommodation after your long flight.

Study Room

Study for classes or exams in peace and quiet
MOTTO JAPAN
RECOMMENDATION
Sendagaya Japanese Institute, established in 1975, has over 40 years of history and tradition. More than 20,000 students from all over the world have studied Japanese in their courses. The school's long-term university preparatory course is accredited by the Ministry of Education, Culture, Sports, Science and Technology (MEXT) in Japan. Sendagaya Japanese Institute office staff is also very international with native Chinese, Thai, Vietnamese, Arabic, Russian and Swedish speakers ready to support students with sincere care.
AREA INFOMATION
Tokyo is the definitive city of Japan and the modern world. From the inner 23 wards to its outskirts the metropolis is filled with and exudes its history. Tokyo is both unique and diverse and is the epitome of the modern and traditional coexisting in one place. Start your Japanese studies in the modern yet historic, one-of-a-kind, Tokyo.
TOKYO AREA
Search for schools in same areas

LOCATION
Want to know which areas have more nature or lower rent?
Compare each area by its features here.
AREA COMPARISON