Check Out Areas of Interest

TOKYO
AREA
Tokyo
Tokyo is the definitive city of Japan and the modern world. From the inner 23 wards to its outskirts the metropolis is filled with and exudes its history. Tokyo is both unique and diverse and is the epitome of the modern and traditional coexisting in one place. From the world's most crowded crosswalk, the Scramble Intersection in Shibuya, to the historic landmark-filled Asakusa, to the anime, video-game, and pop-culture center Akihabara where tourist flock daily, Tokyo is home to 1/3 of the Japanese language schools in the country. Start your Japanese studies in the modern yet historic, one-of-a-kind, Tokyo.
Prefecture
Tokyo
Airport Access
to Tokyo Station from Narita Airport
About60min.
(Direct Rapid Service Train)
to Tokyo Station from Haneda Airport
About30min.
(Rapid service train with some transfers)
Area
2,193km2
Population
13,843,000 People
Annual Precipitation and Average Temperature
Annual Precipitation
1,529mm
Average Temperature
15.4°C
Minimum Wage
985JPY/hr.
(National Avg.: 874 JPY/hr.)
Average cost of living for international students
154,000JPY/mo.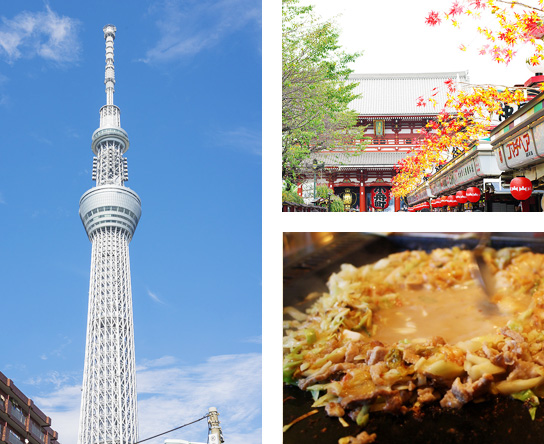 Places to see
Tokyo Tower, Tokyo Skytree, Shibuya, Asakusa, Akihabara, Meiji Shrine, Odaiba, The Imperial Palace, The Ghibli Museum, Ryogoku National Sumo Arena, Tokyo Disneyland
Food to eat
Monja-yaki, Ningyo-yaki, Kintaro Ame, Edo Sushi, Fukagawa Meshi, Tempura, Unajū