Check Out Areas of Interest

SENDAI
AREA
Sendai
The central city of northeastern Japan, Sendai City in Miyagi Prefecture is home to many historic landmarks. A coastal town by the Pacific Ocean, its winters are mild with little snow, and its summers are cool and dry thanks to the incoming sea breeze. The weather is great for taking walks in year-round and the city is not only very livable, but an ideal place to study Japanese. Only an hour train-ride away is Matsushima, a group 260 small islands covered in pine trees considered to be one of the Three Views of Japan. Why not study and experience the great marriage of nature and history in the city with one of Japan's most thriving educational institutions?
Prefecture
Miyagi
Airport Access
to Sendai Station from Sendai Airport
About25min.
(direct rapid service train)
Area
786km2
Population
1,088,000 People
Annual Precipitation and Average Temperature
Annual Precipitation
1,254mm
Average Temperature
12.4°C
Minimum Wage
798JPY/hr.
(National Avg.: 874 JPY/hr.)
Average cost of living for international students
111,000JPY/mo.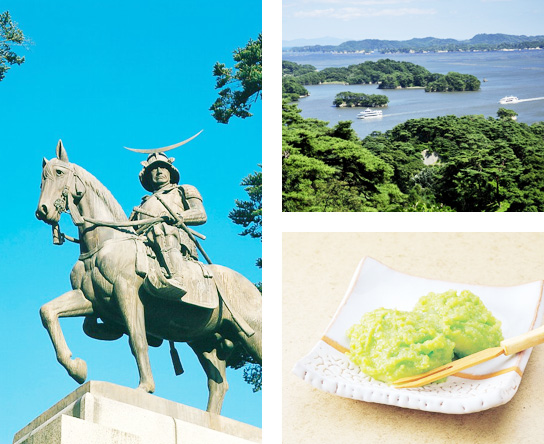 Places to see
Aoba Castle, Tashiro Island, Okama Crater Lake, Zaō Mountain Range, Hirose River, Matsushima
Food to eat
Beef Tongue, Oyster, Zunda Mochi, Kamaboko