Check Out Areas of Interest

NAGOYA
AREA
Nagoya
The Tokyo and Osaka/Kyoto areas are easily accessible from Nagoya, Aichi Prefecture thanks to its convenient location between the two. Traditional art is alive and well in the city but it is also known for automobile, airplane, and robot manufacturing making it a famous among the creative and manufacturing cities in the country. Nagoya is also home to many feudal period landmarks, other historically significant buildings, and the World Cosplay Summit. Why not try the local cuisine and study in the nature rich city of Nagoya?
Prefecture
Aichi
Airport Access
to Nagoya station from Chubu Centrair International Airport
About30min.
(direct rapid service train)
Area
326km2
Population
2,320,000 People
Annual Precipitation and Average Temperature
Annual Precipitation
1,535mm
Average Temperature
15.8°C
Minimum Wage
798JPY/hr.
(National Avg.: 874 JPY/hr.)
Average cost of living for international students
129,000JPY/mo.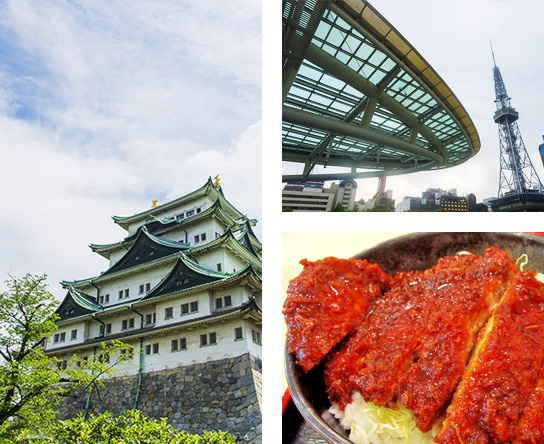 Places to see
Nagoya Castle, JR Centrair Towers, Asahi Beer Factory, Ōsu Kannon, World Cosplay Summit, Chausuyama, Korankei, Cape Irago, Midori Lake, Oasis 21, Iwayado Park
Food to eat
Miso Katsu, Miso Nikomi Udon, Deep Fried Chicken Wings, Kishimen, Tenmusu