Check Out Areas of Interest

HIROSHIMA
AREA
Hiroshima
In 1945, Hiroshima was victim to the world's first atomic bombing. Since then Hiroshima has overcome the tragedy, rebuilt, and created the Hiroshima Peace Memorial park - a symbol and defining landmark of the Chugoku region which also brings business and tourism to the city. World Heritage Sites such as Itsukushima Shrine and the Hiroshima Peace Memorial bring visitors to the are year-round. The seasonal winds from the nearby Seto Inland see make for regular sunny weather allowing the enjoyment of year-round flower festivals and the history and culture-filled port towns making Hiroshima a popular study destination for international students. Enjoy peace and rebuilding influenced architecture and modern history while studying in Hiroshima.
Prefecture
Hiroshima
Airport Access
to Hiroshima Station from Hiroshima Airport
About45min.
(Local train, some transfers)
Area
906km2
Population
1,199,000 People
Annual Precipitation and Average Temperature
Annual Precipitation
1,538mm
Average Temperature
16.3°C
Minimum Wage
844JPY/hr.
(National Avg.: 874 JPY/hr.)
Average cost of living for international students
123,000JPY/mo.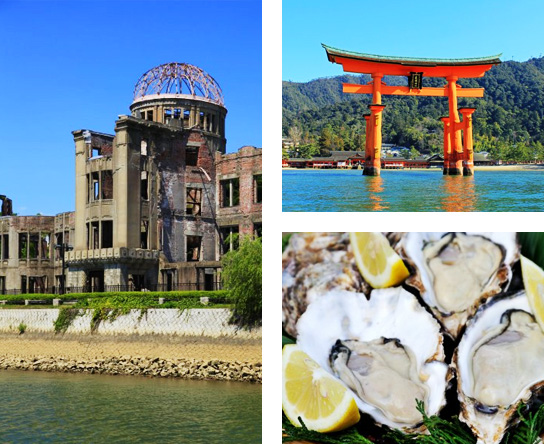 Places to see
Itsukushima Shrine, Hiroshima Peace Memorial Park, Hiroshima Castle, Shukkei-en, Assumption of Mary Cathedral, Hiroshima Gokoku Shrine
Food to eat
Hiroshima-style Okonomiyaki, Oysters, Anago Meshi