Check Out Areas of Interest

OSAKA
AREA
Osaka
The biggest city in Western Japan and the second biggest city in the country after Tokyo, Osaka has long been known as "Japan's Kitchen" boasting a major port which brings in a wealth of food from all over the country. Osaka is a popular destination for international students who enjoy its boisterousness, energy, and food culture as a part of their language learning experience. The city is also popular amongst tourists for Universal Studios Japan, Takoyaki, Okonomiyaki, the business district - Dotonbori, as well as performances of traditional performing arts such as manzai and rakugo. Why not try living in the friendly and bustling town of Osaka?
Prefecture
Osaka
Airport Access
to Osaka Station from Itami Airport
About30minutes
(local train, some transfers)
Area
225km2
Population
2,725,000 People
Annual Precipitation and Average Temperature
Annual Precipitation
1,279mm
Average Temperature
16.9°C
Minimum Wage
936JPY/hr.
(National Avg.: 874 JPY/hr.)
Average cost of living for international students
136,000JPY/mo.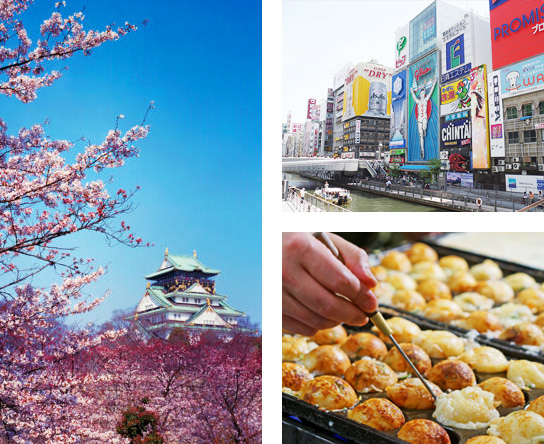 Places to see
Dotonbori, Osaka Castle, Tsutenkaku, Umeda Sky Building, Universal Studios Japan
Food to eat
Takoyaki, Okonomiyaki, Yakiniku, Kitsune Udon, Taiko Manjū