Check Out Areas of Interest

KYOTO
AREA
Kyoto
Having been the capitol of Japan for more than 1000 years, Kyoto is a great place to study Japanese language and experience the culture. There are also many Japanese language schools to choose from. Japanese history and culture have been preserved and protected over the years and traditional food, art, and customs thrive in this city. Kyoto is also known for it's beautiful nature and it's distinct seasons. The northern part of the prefecture is home to beautiful mountains, ocean, as well as one of The Three Views of Japan - Amanohashidate. The famous Otokuni Bamboo Grove can be found in the city and further south in the town of Toyotomi, Uji green tea is cultivated making it a great place to experience Japanese tea culture and visit historic landmarks.
Prefecture
Kyoto
Airport Access
to Kyoto Station from Itami Airport (bus)
About1hour
to Kyoto Station from Kansai International Airport
About80minutes
(direct rapid service train)
to Kyoto Station from Kobe Airport
About70minutes
(rapid service train, some transfers)
Area
827km2
Population
1,468,000 People
Annual Precipitation and Average Temperature
Annual Precipitation
1,491mm
Average Temperature
15.9°C
Minimum Wage
882JPY/hr.
(National Avg.: 874 JPY/hr.)
Average cost of living for international students
136,000JPY/mo.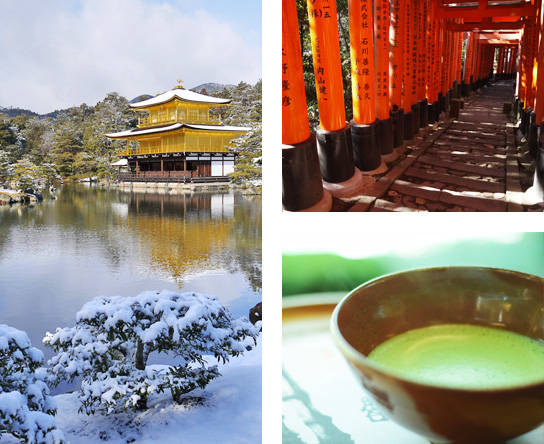 Places to see
Arashiyama, Fushimi Inari Shrine, Nijo Castle, Kinkaku-ji Temple, Higashiyama Area
Food to eat
Kaiseki, Yuba, Shojin Meal, Yatsuhashi