Play
Out on the Town! Common Japanese Pastimes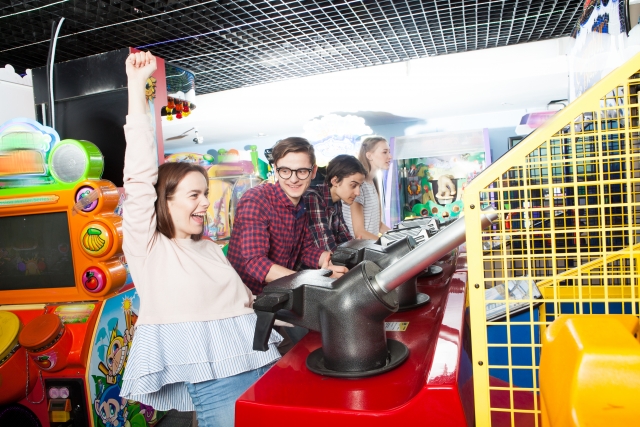 While many would like to focus on their studies or work while they are in Japan, it is always a good idea to get out and take a break every once in a while to keep from burning out. While many of the things that you can do in Japan might also be possible in your home country, they might be done differently in Japan. There are also many things that are distinctly Japanese and cannot be done anywhere else.
Karaoke
Perhaps one of the most popular activities in Japan for people of all ages. In many western countries, Karaoke is often sung on a small stage in a bar or restaurant in front of all who are present. Though this can often be done in Japan, more times than not, it is a more intimate experience. When Japanese want to sing karaoke, they go to a karaoke parlor and pay for the use of a private room with their friends or family. Rooms are equipped with karaoke machines with access to thousands of songs in Japanese and in other languages. To top it all off, food and drink orders are also available through room-service at most locations. So enjoy a drink or two while you sing the night away with only your biggest fans.
Eating and Drinking Out
No matter where you go, food and drink are often the means by which people come together and build strong relationships. Japan is no different and has made gorging oneself with food more easy and affordable than ever before through popular all-you-can-eat courses called tabehōdai. There are also all-you-can-drink courses call nomihōdai. These courses often have a set time period of 1 or 2 hours during which eaters may order from selected items on a special menu. Unlike a buffet (baikingu), these courses are not self-serve and in most cases, only one order per person can be taken at a time. People can only order their next dish or drink when they have finished or nearly finished the previous one. Common tabehōdai options include okonomiyaki (Japanese savory pancake), yakiniku (Japanese-style barbecue), and nabe (Japanese hot-pot) among others. If you are invited to have a meal of this kind, be sure to leave your belt at home and probably hold off on some of your other meals.
Hot Springs and other Public Baths – Onsen and Sento
Communal bathing is a long-standing tradition in Japan. Whether it be in a natural hot spring (onsen) or a public bathhouse (sentō), soaking in the tub is a popular way to relax after a long period of work or study. Onsen and sentō are largely outdoor, indoor, or some mixture of the two. They are can be stand-alone facilities or be parts of hotels, ryokan (traditional Japanese inns) or other types of lodgings. The majority of bathing establishments are segregated by sex and establishments allowing mixed-bathing are becoming increasingly rare. The places that do allow men and women to share baths are often connected to spas or water parks and require the use of a bathing suit. Non-mixed baths often prohibit the use of bathing suits in the baths. Though the idea of being nude in front of other people might be a bit unappealing to the shy, the public bathing experience is no doubt one of the most authentic Japanese experiences possible.
The Great Outdoors
Though the images of Tokyo or Ōsaka might pop in one's mind at the mere mention of Japan, only a small portion of the country is urban. In fact, most of the country is covered by forests (67%) and agricultural land (14%). The wealth of nature is often a peaceful getaway for those living in densely populated areas so it is not uncommon for Japanese people to take trips to nature parks including world heritage sites like Shirakami-Sanchi or Yakushima. Though some nature areas might require a car to get to, some are close to train stations or bus stops making them great for day trips if staying for longer is a bit more difficult.
When in Doubt
Of course, there are always the options to go shopping or pick up a sport but when in Japan, why not put a more cultural spin on these activities and visit local shops selling traditional japan-made goods or learn a Japanese martial art? The possibilities are endless and one would have to try pretty hard to be bored in a country with so much. What will you choose to do with your free time?