Money
ATMs in Japan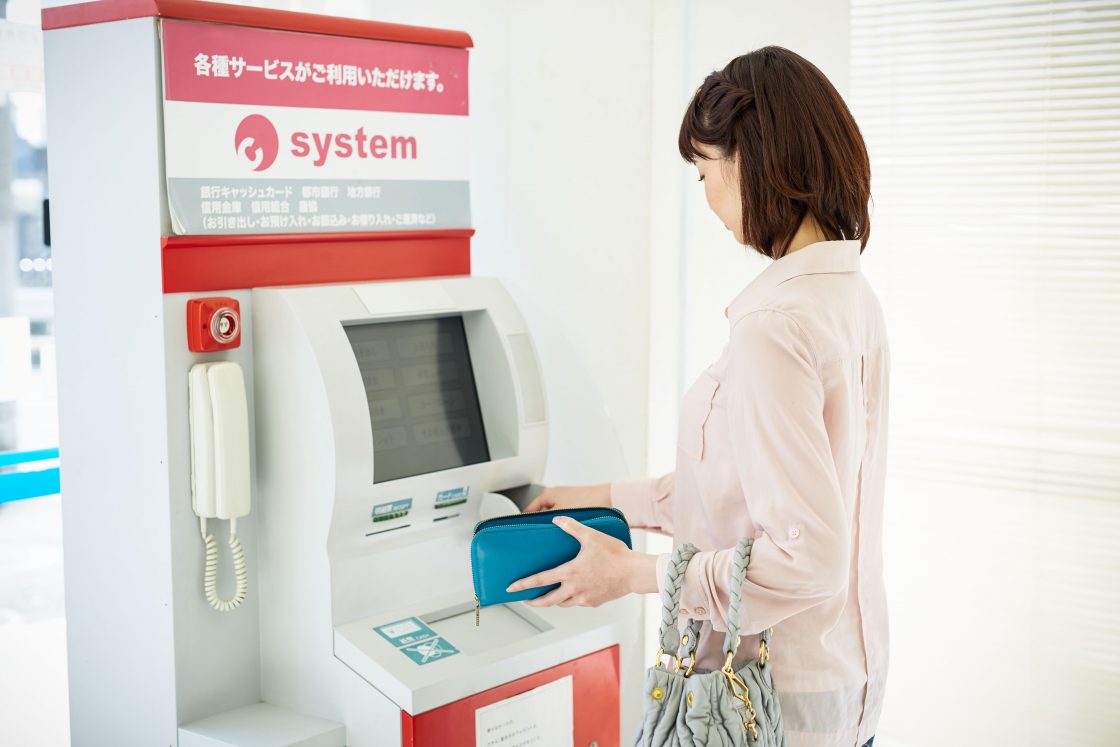 What may come as a shock to many people when they first come to Japan is the fact that, despite the prevalence of cashless payment methods, it is still a largely cash-based society. Many shops including restaurants and grocery stores do not accept credit or debit card payments for their products and services. This being the case, it is not uncommon for Japanese people to carry tens of thousands of yen on them at any given time. Personal checks are not used in Japan so most transactions are made in cash or by bank transfer. Here is where the ATMs become very useful tools for everyday life. From deposits and withdrawals to balance checks and bank transfers, ATMs offer all the functionality you need to hardly ever need to speak to a bank teller.
Passbooks and Cash Cards
When you open a bank account you are issued a passbook (aka bank book) which contains your bank, branch, and account information. It can also be used at the ATM to keep track of all past transactions. You will also be issued a cash card (aka ATM) which is used in combination with a personal identification number (PIN) to make transactions such as withdrawals and domestic transfers. Unless you received a combined-type card (i.e. cash-debit or cash-credit card) most cash cards can only be used at the ATM.
Basic ATM Functions
Most ATMs come with the following basic functions
Ohikidashi – お引き出し – Withdrawals
Oazukeire – お預け入れ – Deposits
Ofurikomi – お振込み – Domestic Transfers
Tsūchō Kinyū – 通帳記入 – Passbook Updates
Zandaka Shōkai – 残高照会 – Balance Inquiries
Rōn – ローン – Card Loans (Cash Advances)
Only a cash card is necessary to perform any of these transactions. At some banks, only the passbook is necessary when making deposits. By using both at the same time, it is easier to keep track of transactions and your balance although it is possible to update your passbook at a later date (this can take some time depending on how many transactions need to be printed).
Keep in mind that while most ATMs have some foreign language capabilities, not all functions will be available when operating a machine in languages other than Japanese. There might also be fees associated with using an ATM of a bank other than your own or if you are using the ATM after a specified time or on the weekend. Some banks even suspend ATM service altogether after a certain hour.
Foreign Cards
One of the easiest and most inexpensive ways to get money from your home country to Japan (aside from bringing it in Cash) is through ATM withdrawals. Though numbers are increasing, many Japanese bank ATMs do not accept foreign cards. The following are locations at which foreign cards are always accepted:
Seven Bank ATM

7-Eleven Convenience Stores

AEON bank ATM

AEON Stores and Malls
Ministop Convenience Stores

Japan Post Bank

Located inside post offices
Furikomi – Domestic Transfers
Admission requirements vary from program to program and school to school but generally waive the Japanese language requirement that is standard for regular university admission of international students. Schools that do require Japanese will often place students in preparatory Japanese language programs before official admission into their degree program. English language-based programs will often require that students be those that have completed a particular number of years of education in the English language or have a particular TOEFL score. Please view the website of the school you are interested in or contact the school directly for more details. One other thing to be aware of is the admission period of the school to which you like to apply. Many schools will follow the traditional Japanese academic calendar which begins in April while others might be more flexible and offer admission in the fall.
Take the Plunge
In most cases, international transfers cannot be performed at an ATM, but domestic ones can. This is possibly the most common way for people to pay rent and some other bills so it is beneficial to know the information necessary to make a transfer via an ATM. These details are as follows:
Ginkōmei – 銀行名 – Bank Name
Shitenmei – 支店名 – Branch Name

Shitenbangō – 支店番号 – Branch Number

Kōzakamoku/Kōzashubetsu – 講座科目・口座種別 – Account Type

Futsū – 普通 – Regular/Savings Account
Tōza – 当座 – Current/Checking Account

Kōzabangō – 口座番号 – Account Number
Kōzameigi – 口座名義 – Name on Account
For most banks, the furikomi function on the ATM is only available in Japanese and all details will have to be input in katakana. Depending on the machine, you may be given the option to register the account to which you are transferring money to or create a transfer card to put into the machine the next time you transfer to the account. These are both ways to make the transfer of money go a bit smoother. If you are at the ATM during regular bank hours, you can always ask nearby bank staff for assistance.
Cash in Hand
No matter where you are in Japan, having cash in your wallet guarantees purchasing power which makes living your everyday life a lot easier. The above information should be sufficient in navigating an ATM's basic functions but keep in mind that some machines offer even more. As with anywhere in the world, always be aware of your surroundings when using an ATM and never share your bank or other personal information with anybody. If you can follow these simple tips, you'll be on your way to an easier and enjoyable life in Japan.