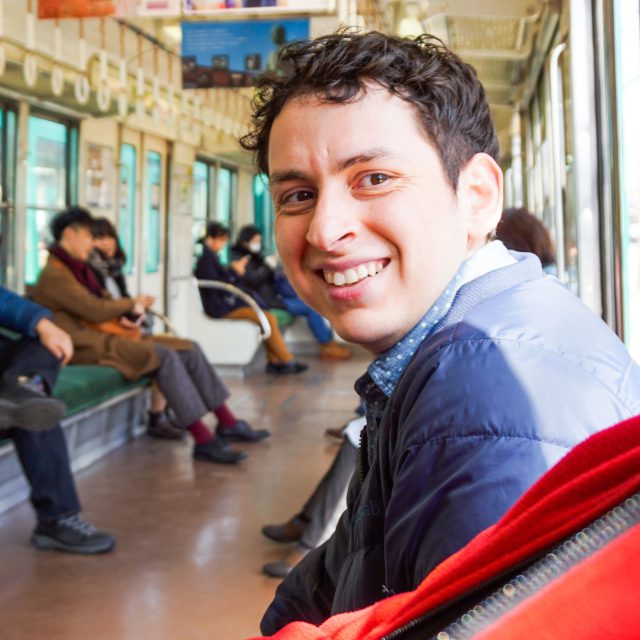 Q1
Why did you want to study in Japan?

I had been interested in Japanese culture as a child, but decided to learn Japanese in university after making Japanese friends. I became more acquainted with Japanese traditional culture, food, and music and wanted to experience it all first hand. I had also never been to a foreign country before and wanted to have the experience in living in one.
Q2
Are you glad you came to Tokyo?

Overall, I am glad to have the experience of living in Tokyo. It is a great place to experience both the modern and traditional aspects of Japanese culture and how they interplay. It is also very easy to find places that can provide a sense of familiarity should you find yourself feeling a little homesick as there are a lot of foreign food restaurants, shops, and people in the area. The city has everything you need to live comfortably.
Q3
What is your dream for the future?

I have many dreams for my future and it is hard to pin down the one thing I would like to do with my life. I do know that food is one of my passions and I have recently been playing around with the idea opening up a food related business where people can grow their own ingredients, cook, and eat in a shared space. I feel that food is a great way to break barriers between people and provides opportunities for people to learn about different cultures, promote mutual understanding, and create a sense of community.
Q4
Tell us about your current study or research.

I currently study music. Music is another means of connecting people and I am interested in using it as a tool to teach people about other cultures. I am a vocalist and am currently interested in increasing the presence of Japanese opera, choral, and art music in our largely western-music dominated classical music scene.
Q5
What is your MOTTO?

In one word, my MOTTO is "LISTEN." I feel that lack of understanding between people is the cause of discomfort, fear, and hatred. In order to eliminate these feelings, people need to challenge themselves emotionally to approach and speak to and listen to one another. Through doing this, not only will people learn about each other and widen their world view, but they will also learn to trust each other, coexist, and support each other. This is what I would consider to be my ideal world.
Q6
Please give a message to students who are considering studying in Japan.

If you are considering study in Japan, be sure that you are mentally prepared to take on the wonderful but daunting task of learning to speak, read, and write the level necessary for your field of study. Also be sure to know what resources (academic, health, and social) you have and where to access them. One of the biggest challenges I faced, when I was in Japan was meeting new people and making new friends and there were many times where it got a bit lonely. If you can join a club, neighborhood or school organization, these will be great places to make friends and acquaintances who you can ask for assistance should the need arise. They're also great opportunities to practice the language.