Find Your Second Home at Genki JACS
Genki Japanese & Culture School – Fukuoka
Summer is on its way and many students are considering short-term study in Japan as part of their vacation plans. MOTTO JAPAN visited one of the leading schort-term intensive language program providers in Japan to learn about what makes them different from the rest. 
Find Your Place and Thrive!
If you have studied Japanese in your home country but have never been to Japan or have any Japanese speaking friends, you have more than likely found yourself in the situation where you can read and write fairly well but lack the opportunity to speak. This creates an imbalance in proficiencies which can often lead to a plateau in your personal improvement which can ultimately result in a loss of drive and excitement to continue your studies.
If this sounds like you, know that there is hope!
Genki Japanese & Culture Schools (Genki JACS) is a school that was created with people like you in mind and offers communication-based curriculum to help students improve their Japanese language skills through the application of the knowledge they have accumulated in their studies at any one of its 3 campuses. Whether it be at its flagship school in nature-filled Kyushu's economic center of Fukuoka, the Tokyo campus housed next to the beautiful and peaceful Hanazono Shrine in the bustling town of Shinjuku, or Japan's former capital Kyoto—the epitome of Japanese traditional culture, students are bound to find a place to call home as they hone their Japanese language skills for use in the real world.
MOTTO JAPAN visited the Genki JACS campus in Tokyo to speak with Sales & Marketing Manager – Oscar San José to learn more about the award-winning school, its programs, and what students can expect from each campus. Here is what we learned…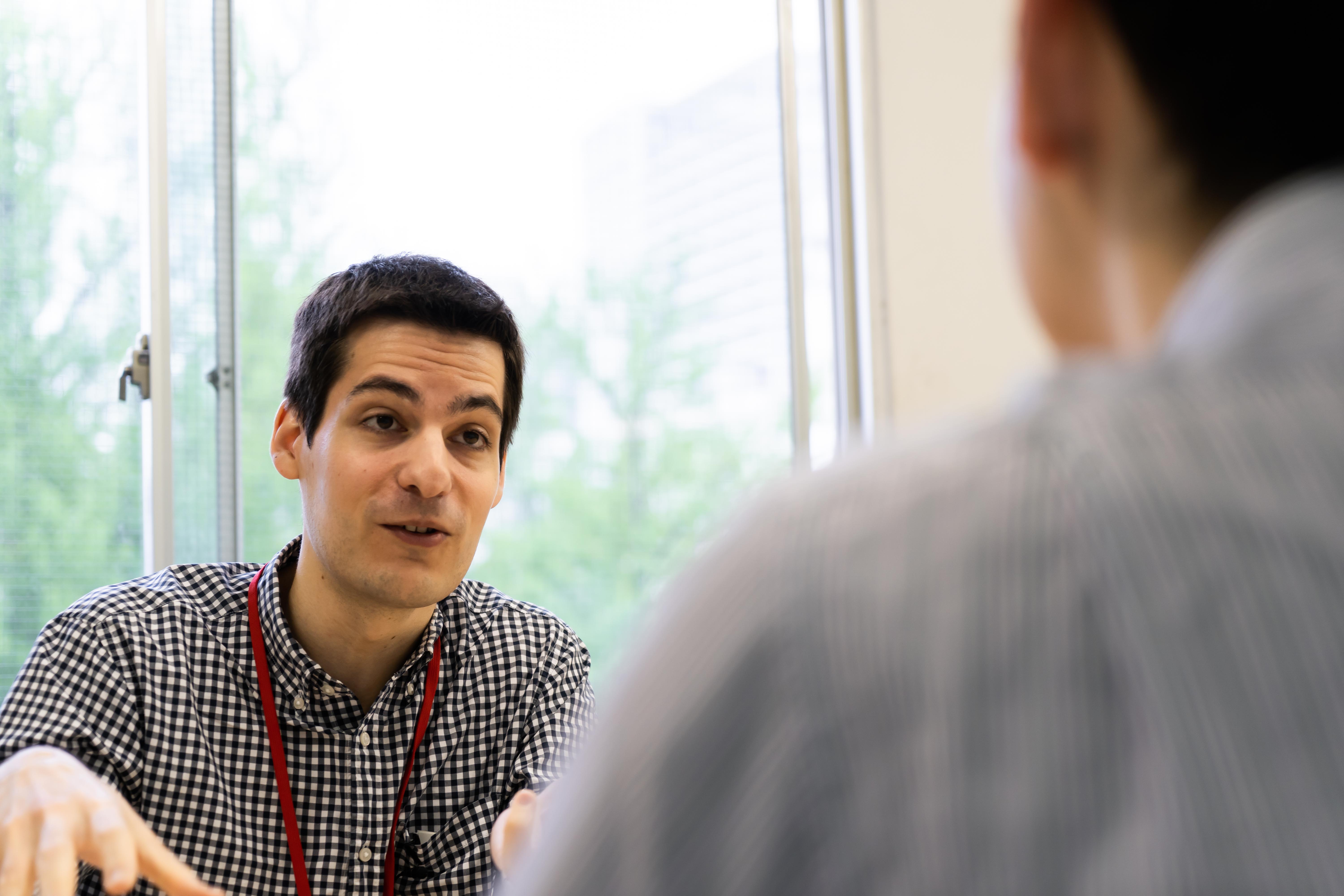 Oscar San José – Genki JACS Sales & Marketing Manager
About Oscar and the Genki JACS Team
Oscar San José is a Spanish national who currently resides in Tokyo working for Genki JACS as the Sales & Marketing Manager. Not only is he responsible for the promotion of Genki JACS programs in Japan and abroad, but he also works to support students during their time in Japan drawing from the knowledge he has accumulated from his time studying and living in Japan.
The Genki JACS Sales & Marketing Team is made up of people from around the world. They currently offer support in 5 different languages including English, Spanish, French, Russian, and Korean. This ability to provide support in the languages it can gives Genki JACS an advantage over many other schools to serve a wide range of students, particularly those from the Western world. 
Teachers at the school are all licensed and experienced professionals with a passion for the Japanese language and culture as well as interests in foreign countries.
Fukuoka: Where it All Began
In 2004, Mr. Evan Tamberlane Kirby opened the Genki JACS flagship school in Fukuoka City, the largest city in Kyushu and historic gateway to mainland Asia. Being a short 5-minute walk from Hakata Station it is possibly the most conveniently placed Japanese language school in all the country. Students arriving by air can arrive at the school in roughly 10 minutes after leaving Fukuoka airport and students arriving by train, even sooner. There is a nearby river and the beach is only 15 minutes away.
If the above wasn't enough to impress, Oscar highly recommends the food in the area. Especially the ramen (tonkotsu ramen to be exact). While most Japanese people associate Hakata ramen with Fukuoka, the area is also home to many other great local dishes and friendly people to eat them with. This makes Fukuoka more than just a popular travel destination but a great place to find a sense of community.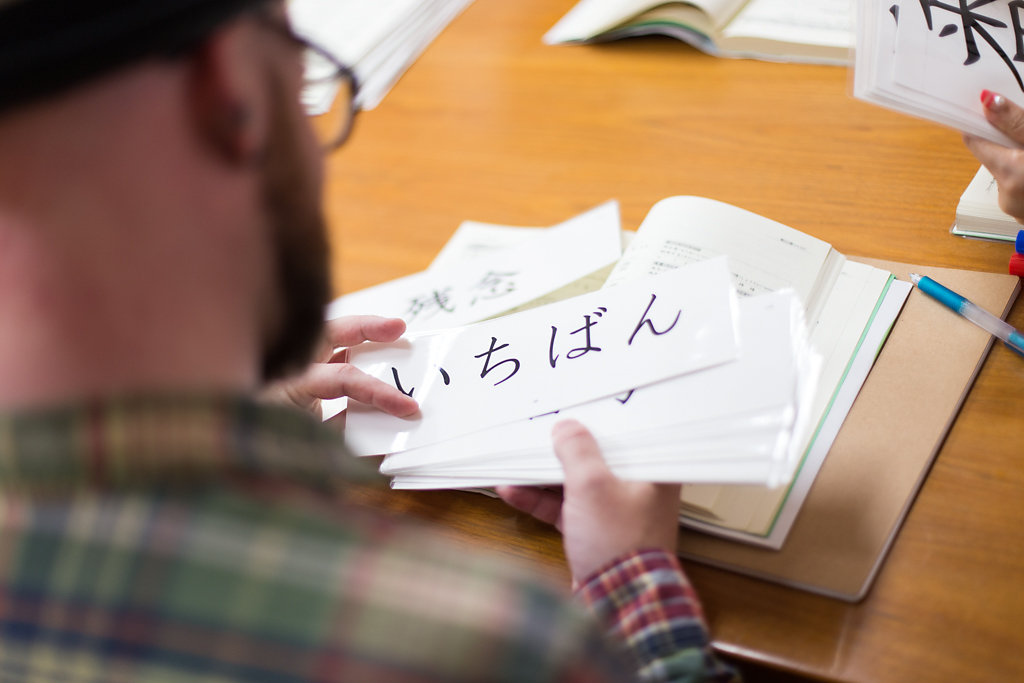 Studying Up to be The Best!
Tokyo: Everything Japan in One Place
Located a short distance from the busiest train station in the world, Shinjuku Station, Genki JACS – Tokyo opened its doors in 2013. The school neighbors Hanazono Shrine which can even be seen from classrooms. Students also pass through the shrine's beautiful red torii gates to get to the building. It is a quiet location which offers a small escape from the hustle and bustle of the surrounding city. According to Oscar, it is also a great place to enjoy sakura (Japanese cherry blossoms) in the spring.
 The school's central location in the Tokyo offers students unrivaled access to the whole of the metropolis and beyond. Tokyo's global presence—and, indeed, the presence of the globe in Tokyo—also makes it a place where many of the comforts of the West are readily available. The city is also an interesting mix of the new and old. This is best represented by the architecture around the city where it is not uncommon to see the juxtaposition of new, tall skyscrapers, and historic buildings or shops that have been around for generations (something our friend Oscar, to this day, is still amazed by). There is never a shortage of surprises in Tokyo and the marriage of historic and modern is something that cannot be found anywhere else in Japan.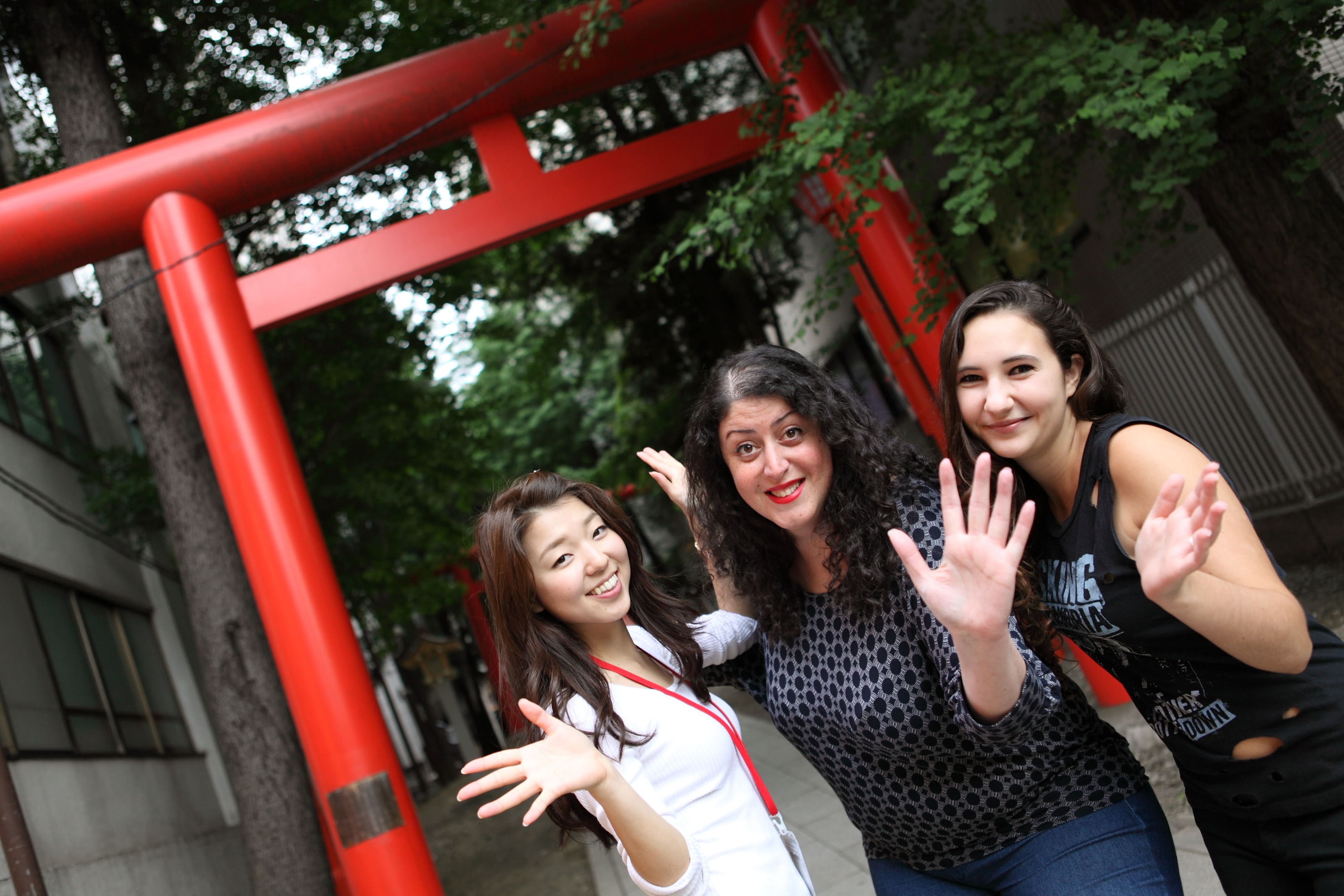 Welcome to Genki JACS – Tokyo! Your home away from home is right past these gates!
Kyoto: New Adventures in Japan's Old Capital
Situated near the historic Gion District of Kyoto City, Genki JACS – Kyoto will open its doors in June 2019 in time for the wave of students coming to Japan for the summer. The school's location between Kawaramachi Station and Gion Gojo Station make for easy access from Kyoto station as well as to central Osaka City. Students willing to walk 25 minutes can also make their way to one of Kyoto's many famous travel destinations and world-heritage site, Kiyomizu Temple.
The cultural center of Japan and gateway to the ever-popular Kansai region is sure to satisfy all incoming students and Oscar and the rest of the Genki JACS team are very excited for the grand opening.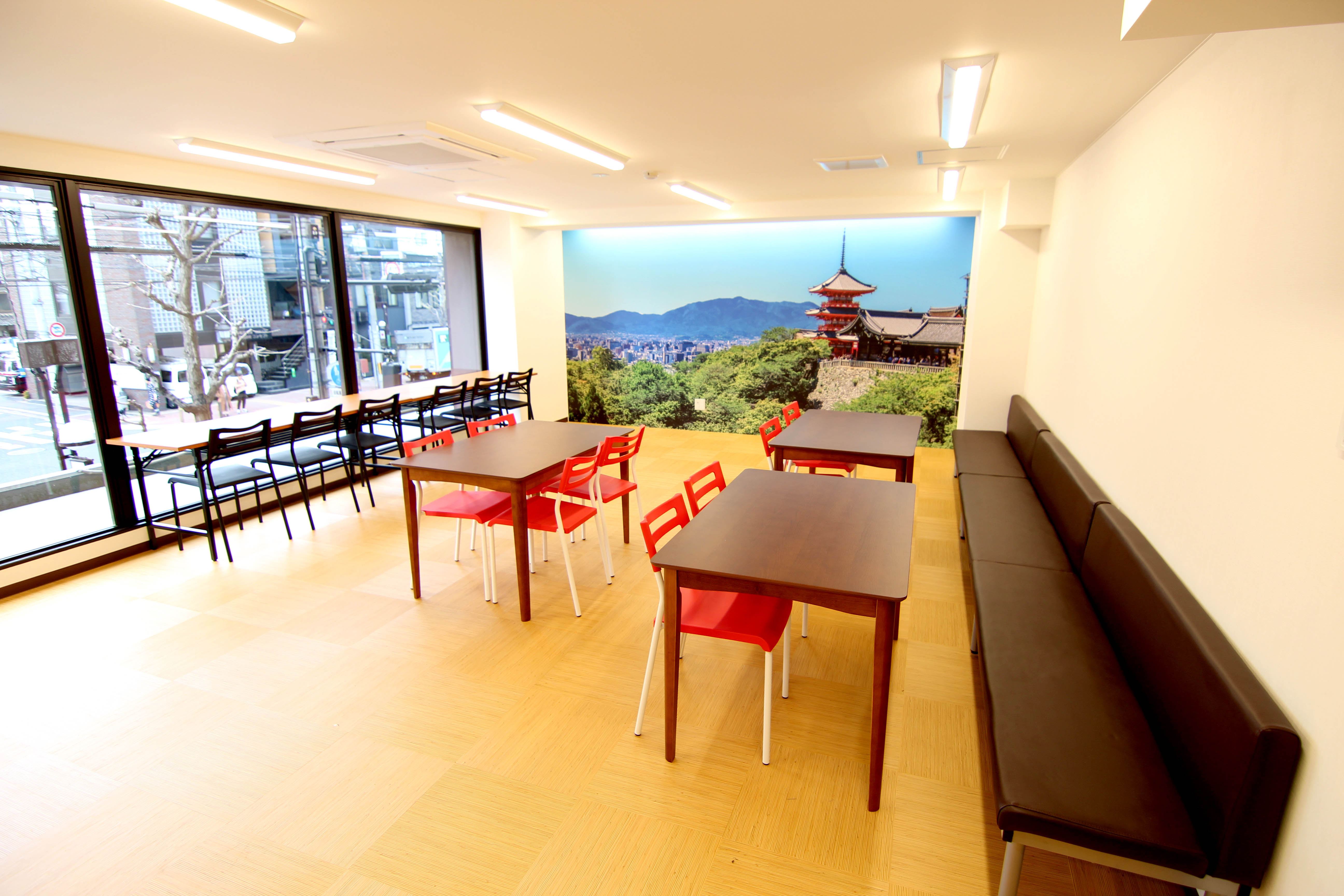 A sneak peek at the new student lounge at Genki JACS – Kyoto
The Average Genki JACS Student
When asked to describe the average Genki JACS student, Oscar responded by stating that it was "very complicated." This is because of the wide variety of students that study at the school throughout the year. In terms of numbers, most Genki JACS students are university-aged and have beginner level Japanese. The average length of study for most people is also 4-6 weeks.
However, there are also many students who are older or younger, have more advanced Japanese language skill levels, and study for shorter or longer periods. Oscar told of the recent admission of an elderly woman who studied in a class with students in their 20's who loved every minute of her experience. This is not an unusual site at JACS and speaks to how welcoming the school is to students of all backgrounds.
In terms of nationality, most of Genki JACS's students are from the West, particularly North America and Europe but there are also students from other parts of the Americas and Asia who study at the school.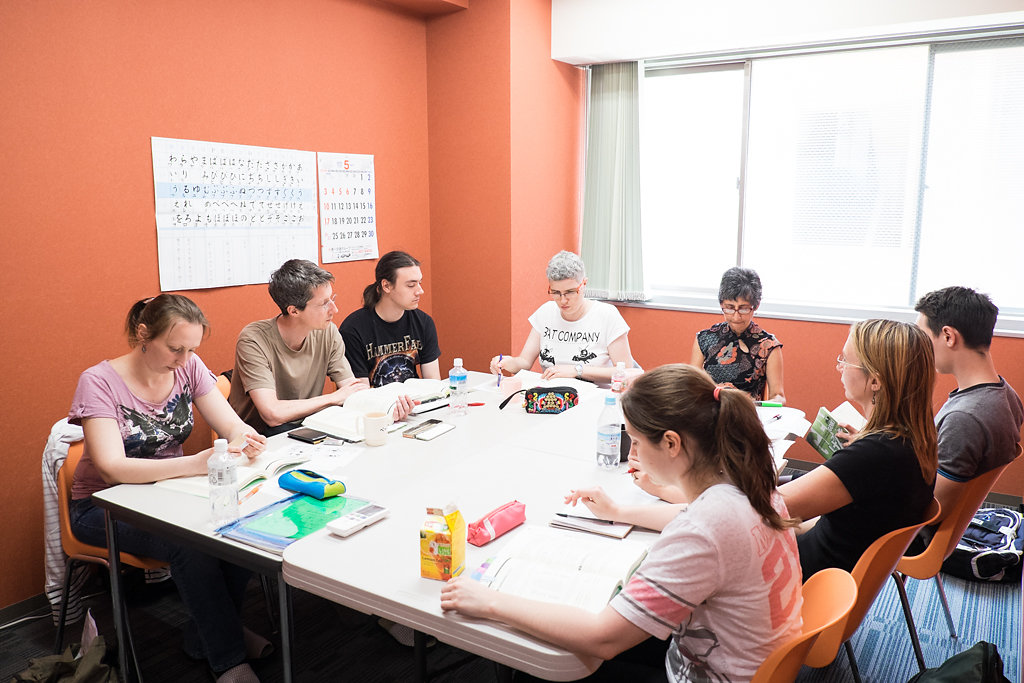 Students from many different backgrounds gathered in one place
Genki JACS Programs: Filling in the Blanks
One of the characteristics of Genki JACS that separates it from many other Japanese language schools is its specialization in short-term communication and practical skills-based programs as well as the ability for students to start a program on just about any Monday of the year.
According to Oscar, students who study Japanese in their home countries often end up with an unbalanced set of communication skills. Specifically, weak speaking and listening skills in comparison to their reading and writing. Genki JACS's curriculum is designed to fill this gap and help students obtain a more balanced set of skills.
Genki JACS offers one primary course to which students may choose to add additional modules too. The standard course provides practical instruction which allows students to develop all 4 basic language skills—speaking, listening, reading, and writing—as well as improve their knowledge of Japanese grammar. Optional modules include conversation, traditional culture, and pop-culture. Each of these provides additional class hours or activities which correlate to the name of the module that the student has chosen.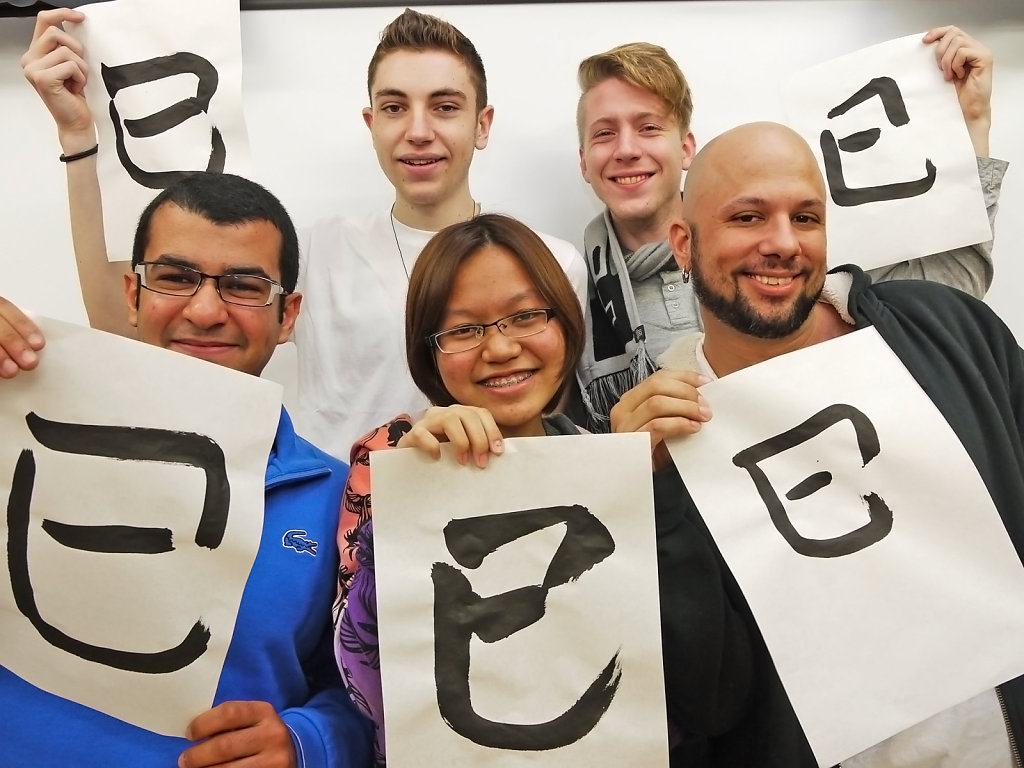 Check out these calligraphy skills!
Where Should Students Go?
In our conversation with Oscar, we learned that each school offers essentially the same programs year-round and the biggest difference between the three are their locations. Oscar has found that where students choose to go is often based on what their aims are.
Tokyo is a popular destination for all students, but the environment seems to be most conducive to language acquisition amongst beginners. This is due to the fact that many there are many foreign people in Tokyo and Japanese people also have a grasp of at least basic English making it easier for students to ask for help when they can't express themselves in well enough in Japanese.
Fukuoka, on the other hand, has fewer foreigners. This means that Japanese people have less exposure making it a little more difficult to use English. This is often one of the reasons more advanced students choose to study at the flagship school.
Still can't choose? That's okay! Oscar also told us about a feature that truly makes Genki JACS special among many other Japanese language schools in the country. That is the ability to arrange for study at all three of its locations in a single trip. Students may study for a few weeks at Fukuoka, followed by a week or two at Kyoto, before finishing their program in Tokyo, or work the other way around. Genki JACS will help to arrange your program and accommodation.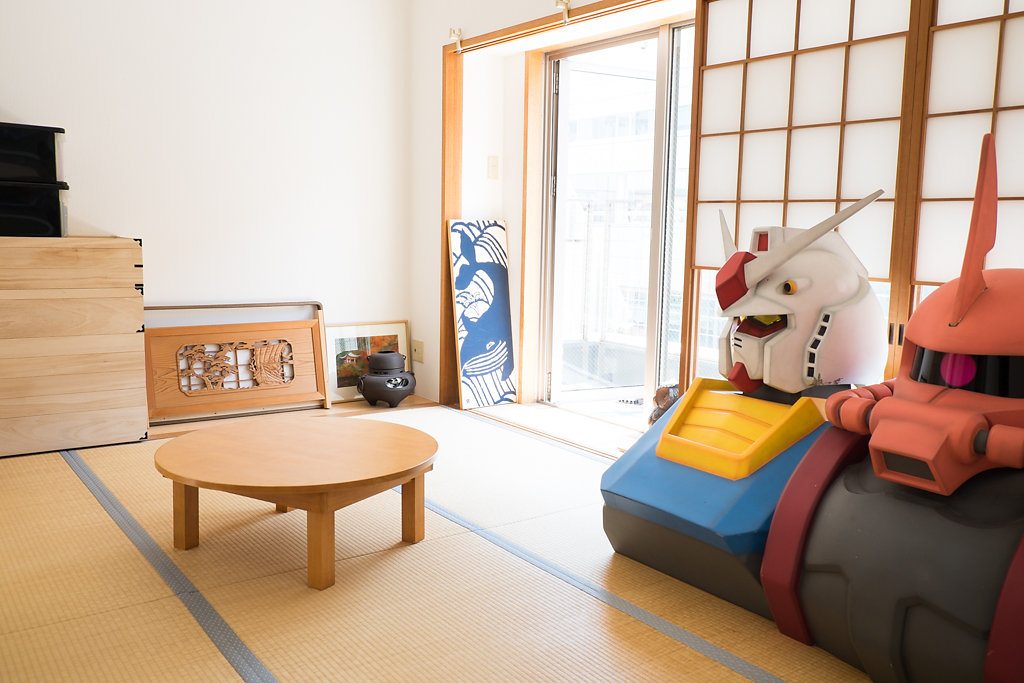 A traditional Japanese-style room complete with a Gundam.
What about Summer?
Since summer is a very popular time for people to visit Japan, we asked Oscar about special summer programs at Genki JACS. If you are a minor, the answer is yes. Genki JACS offers a special program called nextGen at its Fukuoka school which is a combination of the traditional and pop culture modules that can be added to the standard Japanese course. This means that they can benefit from a wider variety of culture lessons and activities during their short time in Japan.
For all other students, the regular standard course and modules are available and can be taken for as little as one week. This makes Genki JACS programs fantastic for summer and other seasonal vacations.
Also, Genki JACS will be opening their Kyoto school this summer and Oscar has let us in on a little secret. Genki JACS will be offering a special chance to 1 lucky student to study at the new school free of charge for a set number of weeks. Though we were not able to get any more details about this opportunity, the Genki JACS team will be revealing details about how to apply in the very near future. Stay tuned!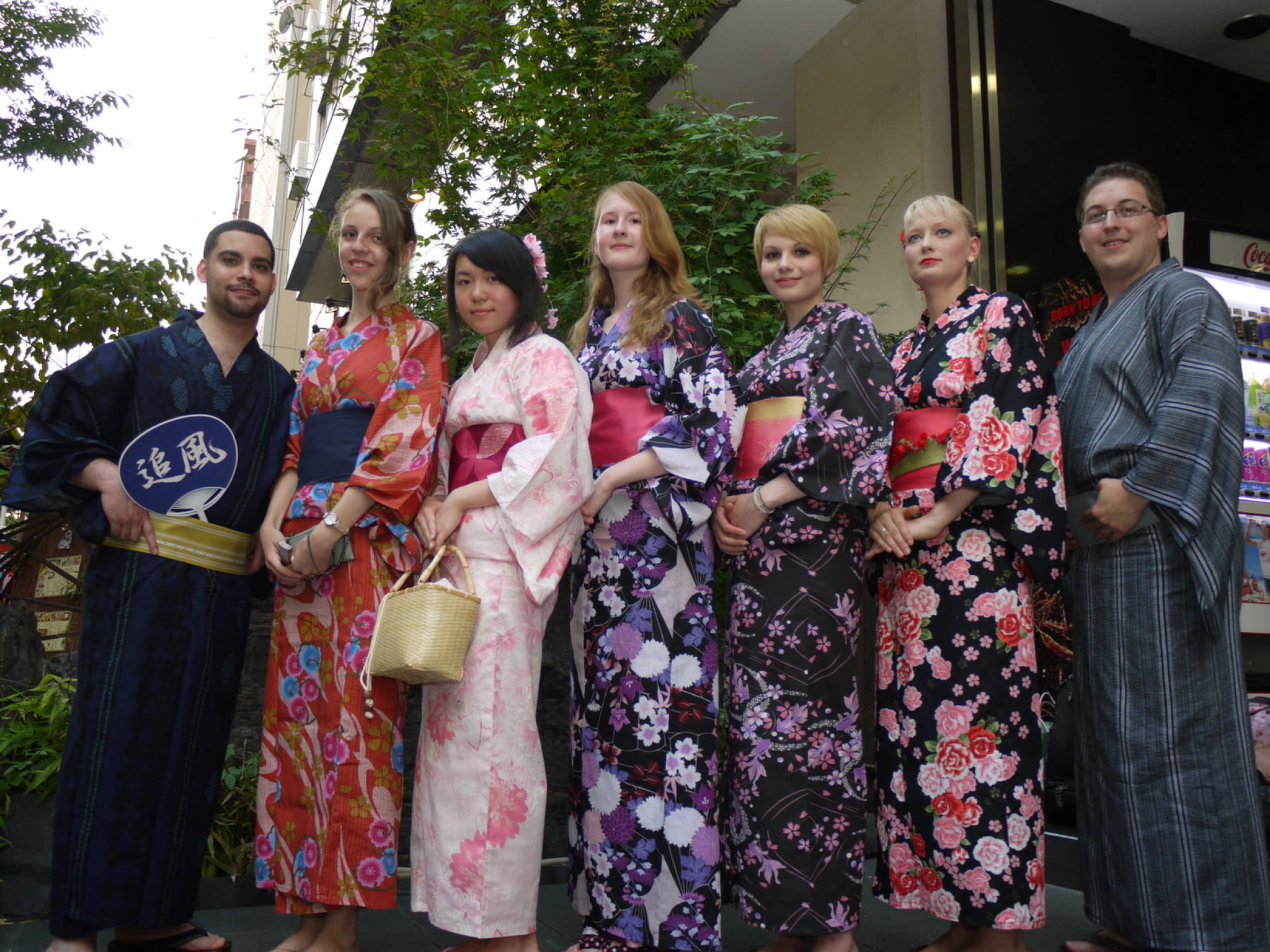 Enjoy summer the Japanese way with a yukata!
Things to Know Before Applying
Genki JACS is very open and welcoming to all students, but there are some things to consider before applying. The first thing is to, "know what you want." Oscar told us that the school offers the strict curriculum of a Japanese school with the flexibility of a European school and that while students can expect to have fun and enjoy their time, they should also be prepared to take their studies seriously. If you are looking for a relaxed school where you won't have to work very hard, Genki JACS may not be what you are looking for. However, if you are willing to put in the effort to learn Japanese, want to participate in activities, immerse yourself in the culture, and make friends along the way, Genki JACS has what you need.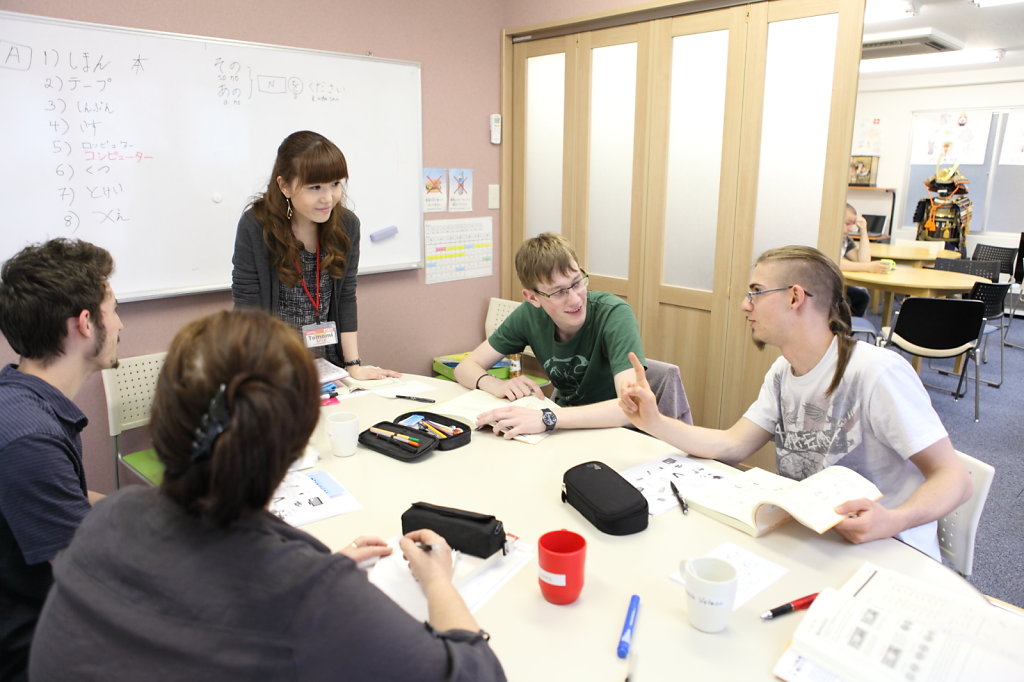 Studying hard can be fun too!
A special message from Oscar
Oscar has a special message for all prospective students:
"If you are passionate about Japan and really want to learn the language in a personalized, quick, and intensive way while feeling at home, experiencing the culture and receiving extra 24-hour support, our schools are the best. We really care about our students and our teachers always communicate with them trying to help.
Our purpose is to help foreigners enjoy Japan while learning about the culture and language in the best way possible. This is our mission and we do our best to fulfill it. You will feel it when you come here.
If you want to travel, you can study at each or our schools in Tokyo, Kyoto, and Fukuoka and experience almost all of Japan. We will support you while you learn Japanese and are looking forward to meeting you. Of course—if you have any problems, we are always here to help so you can count on us!
Please come and study with us!"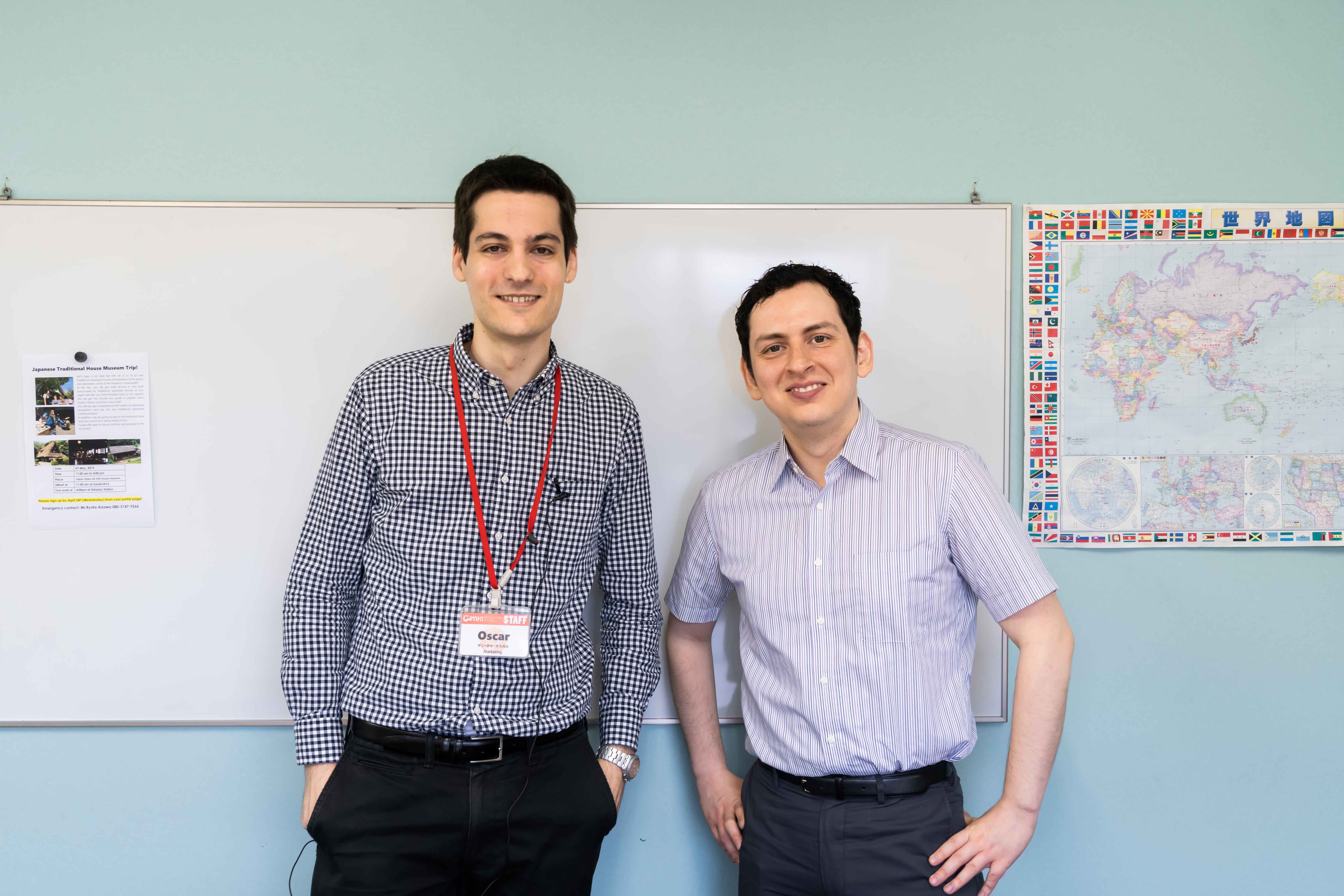 Left: Oscar San José – Genki JACS Sales & Marketing Manager
Right: Brian Munguia – MOTTO JAPAN Student Support Specialist
And That's a Wrap!
If Oscar's words were enough to sway you into studying at Genki JACS, we would love to hear from you. You may contact MOTTO JAPAN at any time to inquire about this or any other school in Japan through our contact or application forms. If you are thinking about coming to Japan for the summer, be sure to let us know soon! Spaces are filling up quickly!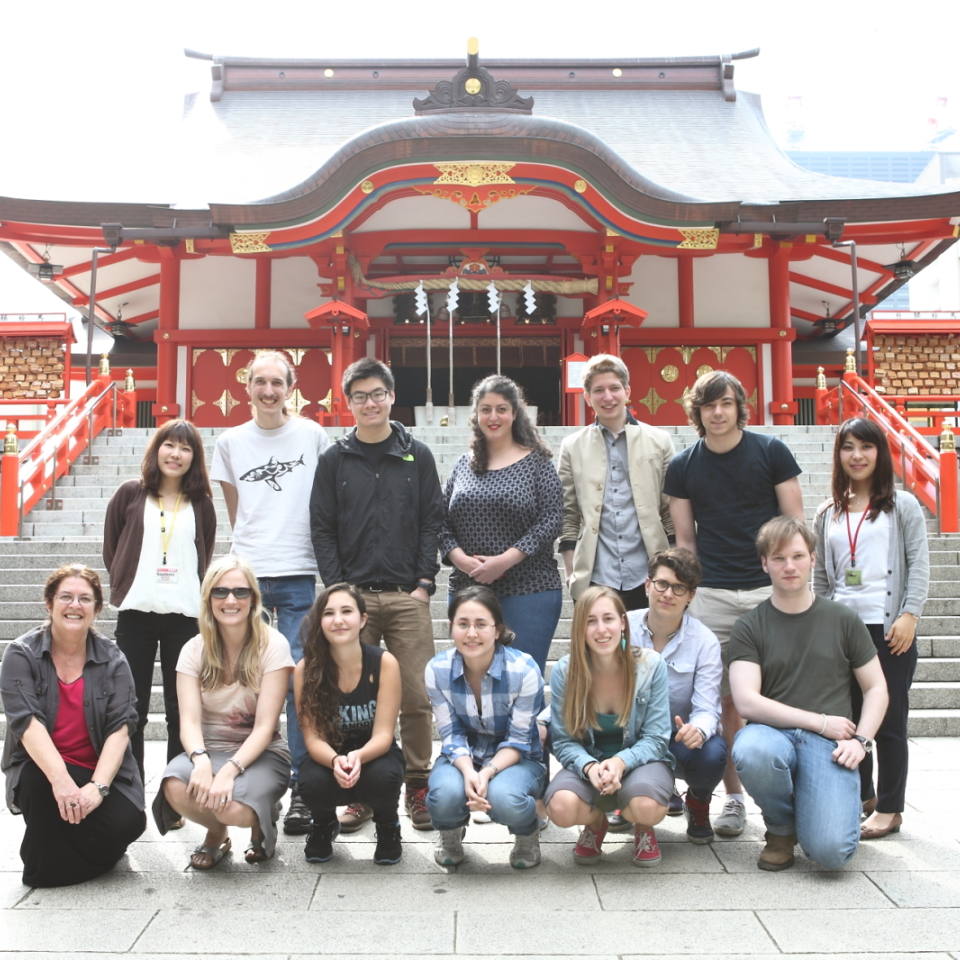 New fun and adventures are waiting for you at Genki JACS!
SCHOOLS
See more details about our featured schools