Navigating Tokyo Nightlife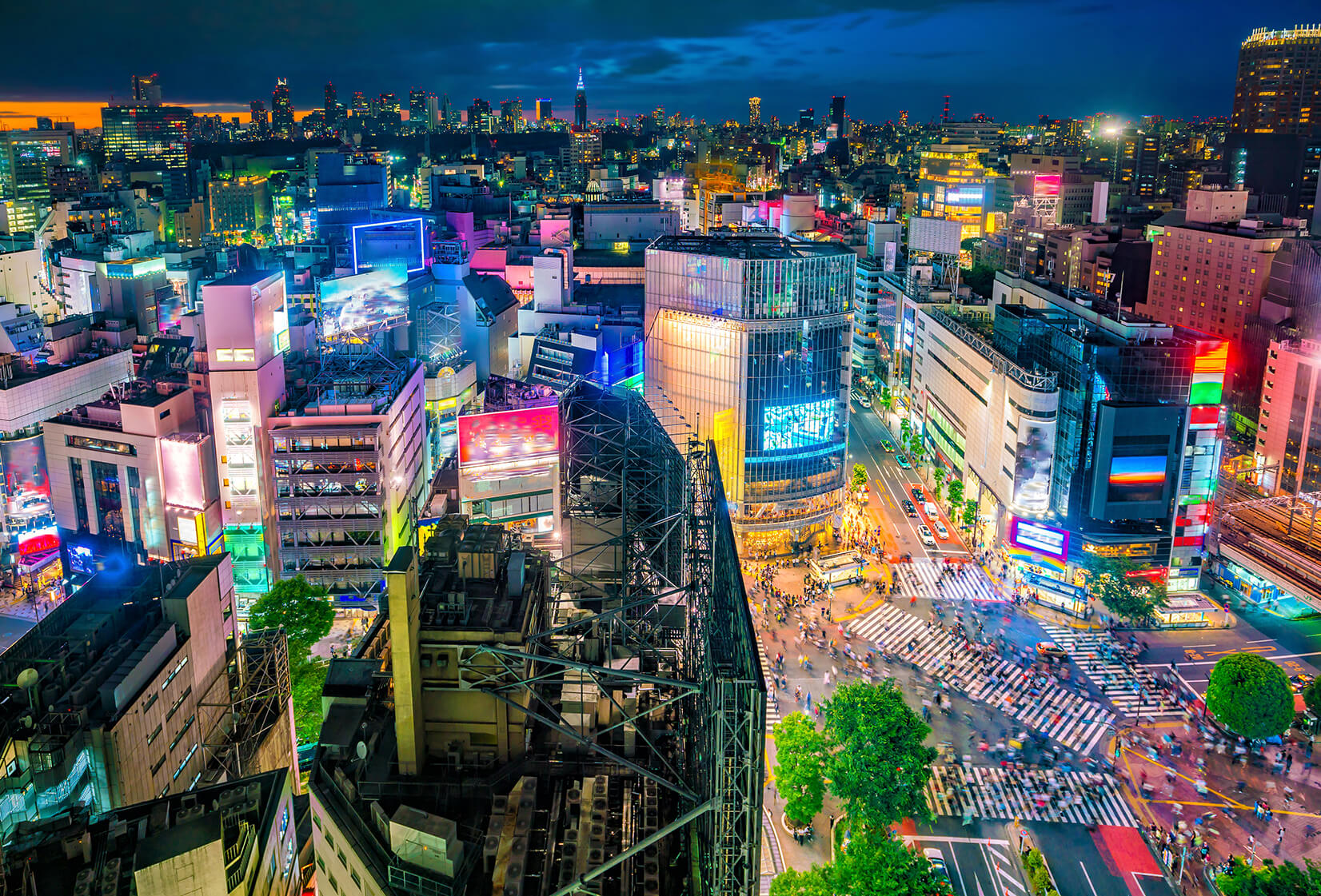 As the metropolis of Japan, Tokyo endlessly bustles throughout the daytime. Hundreds of thousands of pedestrians cross the intersection in Shibuya daily, while the train station in Shinjuku caters to millions of passengers each day. Even as the sun sets, there'd be even more commotion. Expect nothing less from a city that never sleeps!
You must have already heard about how busy Tokyo gets at nightfall. There's so much to see from high-end pubs and karaoke bars, trendy clubs and restaurants, to ubiquitous izakaya or Japanese tavern bars. Your itinerary will surely be loaded with sights to visit at night!

Indeed, Tokyo remains alive and full of activity in the night-time. Navigating the city beyond twilight is undoubtedly one of the best ways to experience life in Japan. But with the countless establishments and activities to try, you might wonder where you should start.
Night-time entertainment and activities can be summed into Tokyo's 4 central nightlife districts: Ginza, Roppongi, Shibuya, and Shinjuku. Each area has a unique night adventure. We have highlighted what these locations have to offer for first-time tourists who wish to enjoy the Tokyo nightlife. Read on to identify how you want to experience the perfect night in Tokyo!
Ginza

Suppose you're already in Tokyo after dreaming of getting there one day. Of course, you wouldn't think twice about splurging as much as you can. You want the perfect experience. Ginza might have precisely what you have imagined your ideal Tokyo nightlife to be like.
Ginza is an upscale district with fine dining restaurants, fancy cocktail bars, and chic night clubs. Establishments in this district can be quite exclusive to those with more than adequate Japanese language proficiency. One notable high-class restaurant in the neighborhood is called Sukibayashi Jiro. This place has served renowned politicians, including Shinzō Abe and Barack Obama. In Ginza, you'll be dining with the upper-class.
You can still have a fancy night out in Tokyo if you are on a tight budget. In just a 10-minute walk to the outskirts of Ginza, you'll find Shinbashi. This area is filled with just as many great bars and restaurants as Ginza proper. You could give your wallet a break and enjoy the rest of your night in this lively neighborhood with karaoke bars at every corner.
Roppongi

If you want to appreciate life in Japan as much as you can for your first time, Roppongi District has the cultural experience you're looking for. The National Art Center, Tokyo (NACT) and the Mori Art Museum have many exhibitions that feature various traditional and contemporary works. The exhibits also change seasonally, ensuring a unique artistic experience for everyone.
Mori Art Museum is located in Roppongi Hills Mori Tower. You instantly gain access to the museum if you've gotten admission to the Tokyo City View. This observatory grants you a fantastic 360-degree view of Tokyo from 250 meters above sea level. If you're a thrill-seeker, you could go even higher to the Sky Deck, rising at 270 meters above sea level.
Tokyo, under the night sky, is quite the spectacle from any observation facility in the metropolis. The city lights would especially be mesmerizing during darker nights. They would seemingly invite foreign tourists to explore the city below.
If you ever decide to do so, you could visit Tokyo's grand red-light district, Roppongi Kaguwa. This place offers even more notable traditional and contemporary features of Japan, with the best professional dancers performing Geisha, Oiran, and Samurai shows. You'll surely enjoy a night of art and culture in Roppongi!
Shibuya

For a modern and colorful nightlife, spend your evening in Shibuya, the youth district of Tokyo. Shibuya is a famous shopping district, dubbed as "Tokyo's hippest transport, fashion and youth nexus." Skyscrapers full of department stores and restaurants tower over the neighborhood, decorating the night with giant neon storefronts and video screens.
As the youth district, you will surely find a hip activity that suits your ideal Tokyo nightlife in Shibuya. You can expect modern businesses that are popular among younger patrons. Some of these include all-night bowling rings, pool halls, table tennis courts, and of course, karaoke bars! Enjoy your youth as you party hard under the strobe lights at Shibuya's night clubs.
Shibuya may be among the more modern districts of Tokyo. Still, amid the busy streets, Nonbei Yokocho is tucked away and remains traditionally Japanese. This place dates back to the early 1950s and is known as "Drunkard's Alley."
The place is conveniently located next to Shibuya Station. It offers dozens of affordable eateries, pubs, and izakaya lined with paper lanterns for an authentic appeal. Whether you decide to spend your evening among the bright city lights that eclipse this quaint alleyway, you can still enjoy a distinctly Japanese night out in Shibuya!
Shinjuku

Much like Shibuya, Shinjuku has nostalgic areas that hark back to Tokyo's pre-war aesthetic. You will find a whole lot of barbeque joints and izakaya in Omoide Yokocho, which aptly translates into "Memory Lane," as well as in Golden Gai. Many locals frequent these cramped alleyways after work hours to enjoy the many small pubs and bars.
Once you walk out of those spaces and into the central Shinjuku district, you will learn why Tokyo is truly a city that never sleeps. Japan's largest red-light district is in the neighborhood, swallowing all the night's darkness with large billboards radiating with advertisements. The area is called Kabukichō, lying to the east of Shinjuku Station, and offers a myriad of nightlife activities.
Restaurants and karaoke bars are staples, but Shinjuku elevates these standard establishments further. Kabukichō has various themed restaurants, including the famous Robot Restaurant. There are even karaoke bars that feature a live band to accompany your heartrending performance.
Kabukichō definitely has everything for your Tokyo nightlife. There are host and hostess clubs at every corner, as well as arcades and cinemas with midnight screenings. There's bound to be a shop that caters to your interest! With countless establishments that stay open up to 7 in the morning, Shinjuku is sure to keep you active until the break of dawn.
Conclusion
Tokyo offers unique night-time adventures for every tourist. Identify your ideal nocturnal experience, and reflect upon each of Tokyo's nightlife districts and what they have in store for you. You could dine with the elite or indulge in a night of culture and tradition. Tokyo also has neighborhoods that the younger generation patronizes, complete with modern facilities and establishments that keep serving until sunrise. With this short navigational guide, we hope we've pointed you in the right direction for your perfect Tokyo nightlife experience!
Motto Japan, the community platform to support foreigners with the foundation for life in Japan, including Japanese study, job opportunities, and housing service. Motto Japan Media will provide a wide variety of information for Japanese fans all over the world, to create a cross-cultural environment and enrich the life of foreign residents in Japan!